PYRO Smålands Krutbruk AB — www.pyronobel.com™ — is Scandinavia's leading manufacturer of pyrotechnical special effects. The company's pyrotechnics are used for both civil and military purposes.
The company also imports and sells consumer fireworks to the public and has specially designed service events around the eve of May Day and New Year.
The company is represented in Norway, Finland, Denmark and Germany.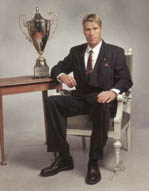 Pyro Smålands Krutbruk AB manufactures 80 % of its pyrotechnical special effects in its own facilities in Braås that include 3000 square metres under its own roof and approximately 7 hectares of restricted area with pertaining test and firing sites. Just about all consumer fireworks are imported from the partner factory in China.
The company also has qualified and licensed course programmes and can tailor pyrotechnics to the customer's requirements. Entry to the premises during training activities and film recordings is also a part of the operations.
The company is agent for PYROCLOCK in Sweden.